I'm Leavin On A Jet Plane...
All my bags are packed, I'm ready to go...
Off tomorrow to Tokyo! I am so excited. We have a lot of cool stuff planned and a lot of time to just fill in cool stuff to do while we're there.
We're probably taking a day trip to Kamakura to see the Great Buddha statue: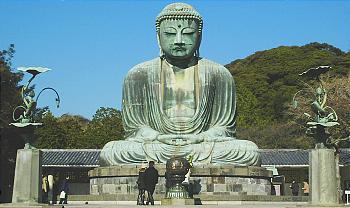 We're staying close to the well known Tsukiji Fish Market, which looks really cool: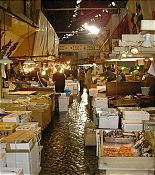 (Photos borrowed from Lonely Planet's website.)
We also plan on visiting a public bath, and of course, a huge craft/yarn store.
Thanks,
Bridzie
, for your help with that!
On the crochet front, I FINISHED MY 63 SQUARES!!!!!
Just the squares, still have to join them and do the border, but I'm so close! I'll have to finish it when I get back.
Ooh, I caught the tail end of a
Smiley's
sale last night and ordered
Lion Brand Chenille Thick & Quick
for $1.99 a skein!! Couldn't believe that, I think normal retail is $7.99 and I've had an eye out for it for a cool blanket Sue did around Christmas posted
here on her blog
from
48 Hour Afghans
. It's made with an N hook too, hopefully it will go pretty quickly. The color selection was minimal so I went with Eucalyptus.
So it's final, I'm not taking any yarn work with me. But at least that way I'll do some reading.
I'm taking Hypocrite in a Poufy White Dress, Bell Jar, and Memoirs of a Geisha. Hopefully I can knock them all out and get to cross a few off my
50 books list
, as I've not done as well as anticipated on that.
I'll leave you with this hilarious work story I heard today as I've laughed about it everytime it crossed my mind today.
Oh, in darker news, the Smart Guy who works Downstairs is leaving. We'll miss his smartness. He seriously knows about everything.
So I was talking to him this morning and he shared this story about a former Downstairs employee, who we'll call Don: Apparently, on Don's second day of the job there, he was apparently playing his music pretty loud and singing along (small space, everybody close together) so Smart Guy listened closer to what Don was blaring and it was Xanadu! Yes, Olivia Newton John's Xanadu. Another funny side note, for extra income, Don worked as a DJ!!! This is a, I don't know, 40-ish man! Jammin out to Xanadu at the office in front of everyone. Smart guy said he even had the imaginary mic action going on when he thought no one was really paying attention.
Okay, it was funnier in person and I think the humor totally didn't translate when I wrote it out.
I just have to leave you with this precious knitted gem from
You Knit What?
, one of my favorite blogs I look forward to checking every day. I haven't felt the urge to share until now...
Because nothing says I love you like a red-eyed
TV Static bear!
Hope everyone has a great week!